Florida's beautiful beaches offer a much-needed reprieve from the hustle and bustle of Orlando's popular theme parks. Within a two-hour drive, you can find crystal clear waters, soft white sand, and some great beaches. Here are my top five beaches within two hours of Orlando that are worth the drive.
Located about an hour and a half east of Orlando, New Smyrna Beach is known for its world-class surfing waves.  With 17 miles of white sandy beach, you are sure to find a place to spread out, enjoy a picnic lunch and build your ultimate sand castle.
If you're looking for a beach with a little more action, head about an hour and a half east to Cocoa Beach. This bustling beach town is known for its surf culture and is home to the famous Ron Jon Surf Shop. Catch a wave or hang out on the sand and watch the surfers do their thing. Don't miss out on the historic Cocoa Beach Pier, where you can grab a drink or a bite to eat with an ocean view. I always park near Minuteman Causeway and hit Coconuts for a late lunch/early dinner while I am there. Usually, they have live music on the weekends too.  This is the only beach that allows alcohol consumption.
This one's a bit of a drive, but the beautiful Clearwater Beach is worth it. Located on the Gulf of Mexico, about two hours west of Orlando, Clearwater Beach boasts some of the clearest water and softest sand you'll find. The surf is pretty flat so it's perfect for just a lazy day floating around or perhaps, snorkeling. While you are there, you might as well stay for dinner. The seafood options are stellar and I haven't found a bad meal there yet.
Another classic Florida beach town, Daytona Beach is about an hour northeast of Orlando. Famous for its hard-packed sand that's perfect for driving on (yes, you can drive on the beach here!), They have a great beach app I use called the Volusia Beaches App. It's my go to for beach conditions, tide schedules and updates on open ramps.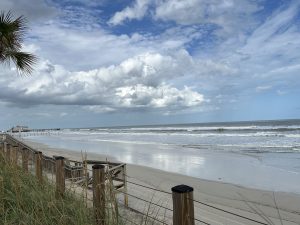 If you're looking for a beach that's a little more secluded and less crowded, head about an hour and a half southeast of Orlando to Vero Beach. This quiet beach town is known for its beautiful sunrises, excellent fishing, and low-key atmosphere. Pack a picnic and find a spot on the beach to enjoy the day in peace and quiet.
With so many beautiful beaches within a two-hour drive, it's easy to escape the theme parks and city views. So pack a cooler, grab your sunscreen, and hit the road. Maybe I'll see you there.