The Sebring 12-Hour Race is a grueling endurance race held annually in Sebring, Florida for more than 70 years. It's one of the most challenging races in America and attracts thousands of spectators from all over the world. The raceway was developed on the grounds of the former World War II Army Air Corps B-17 Base known as Hendricks Field. This throwback raceway is 3.74 miles long, testing even the most experienced drivers with its tight corners and long straightaways. Those who attend this event can expect to see some of the best racing action around as drivers push their cars to their limits to be crowned champions at the end of it all. I go every year and I highly recommend it to all Central Florida race fans. Let me tell you my top 5 reasons you should be attending this event.
There are 17 different turns with bleachers and berms to view from
From hairpin corners to sweeping S curves and long straightaways, you get a chance to see drivers battle it out from various vantage points. Most fans enjoy meandering throughout the course all day and pack a cooler and a stadium chair for easy travel. Golf cart rentals come in handy as the raceway is over 300 acres in size. Pro tip: They race rain or shine, so pack layers accordingly.
Most accessible fan-friendly event with its pre-race grid walk
One hour before race time, the pit road is open for the fans to walk through and get up close and personal with the cars and drivers. Meet the crew and peek inside the interior of your favorite prototype. During the race, you can walk back to the garages and check out each team's setups, tools, and spare parts needed throughout the day.
There is lots of racing going on, which makes this race a great bang for your buck!
There are practice sessions and qualifying races all week from Monday to Thursday. Friday is the 8-hour FIA WEC 1000 Miles of Sebring Race and Saturday is the main event- the 12-hour Sebring Classic endurance race. You have the option to camp on the infield all week and enjoy the fanfare before the crowds. The last three hours of the 12 Hour Race are in total darkness. That's right, total darkness. The only thing you'll see is the headlights whizz by you at over 150 mph. At the end of the race, you'll experience a huge fireworks show.
Enthusiasts and collectors unite!
Visit the various car corrals designed exclusively for Corvette, BMW, Cadillac, Lexus, and Porsche owners. Here you can walk up and down rows upon rows of cars like a museum of models. If you own one, you can register your car, park in the paddock, and access the VIP bleachers and hospitality tents. Plus, as a bonus, you will be treated to an exciting drive of three laps on the track as a parade lap with your car. This was one of the coolest things I was able to do with my Corvette.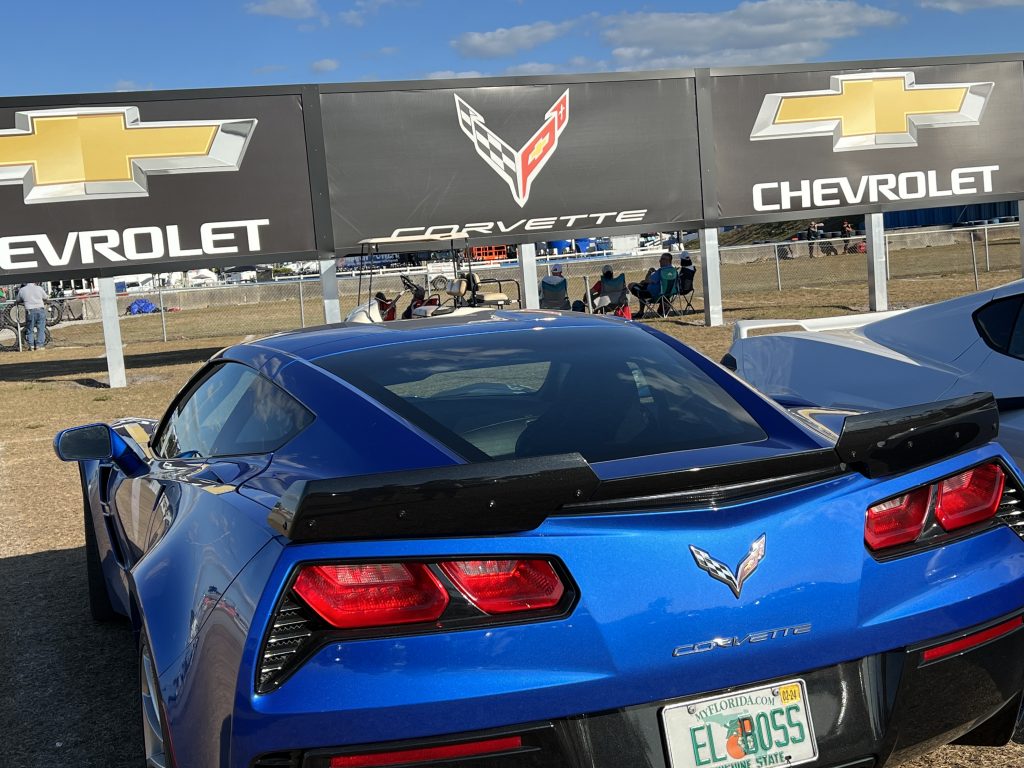 Action-packed Midway
Take a long afternoon to check out the midway and walk through the vendor areas to see the latest offerings from BMW, Chevrolet, Hyundai, and Cadillac. Here you can test drive cars, win free merchandise and collect all the swag before the crowds on race day. There is also an area packed with food trucks, beer, and liquor tents as well as a huge stage set up for live music.
So, listen, If you're looking for an epic race week filled with the best racing action, car corrals and a ton of fan-friendly activities, then this is one event you don't want to pass up. I camp every year, so make sure you look me up and stop by to say hello.
See you in 2024!